Open Forum for Large-Scale Data Analytics to Improve Security Operations
Join professionals from all over the world to discuss the analysis of large volumes of data for protection and defense.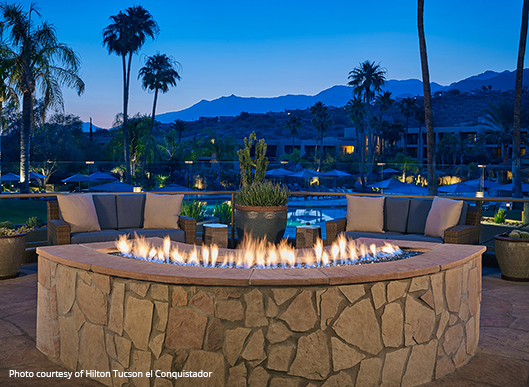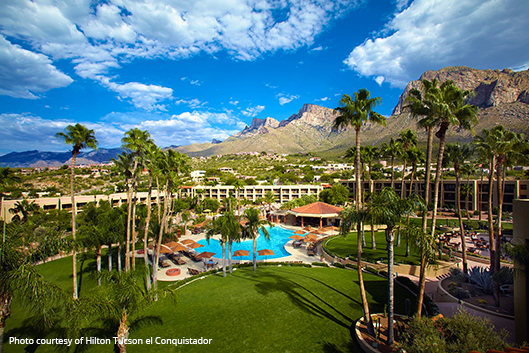 Nestled in the foothills of the Santa Catalina Mountains, the Hilton Tucson Conquistador Golf and Tennis Resort offers stunning views of the Sonoran Desert.  Enjoy a game of tennis or golf, hike scenic trails, or relax on the patio by the pool.  We're just a short drive from downtown Tucson, where you can stroll past funky shops and explore the culture and history of the American Southwest.
10000 North Oracle Road
Tucson, Arizona, 85704
 520-544-5000
Additional Amenities
In addition to the hotel's usual amenities, FloCon attendees who book within our room block will also receive
complimentary in-room wireless/wired Internet access for up to 2 devices
no additional fees for local or 800 number phone calls
Two complimentary bottles of water upon arrival
15% off massage treatments at Elements Spa
Daily use of fitness facilities and fitness classes
1hour use of putting green per day
1hour use of driving range per room per day
1 hour of tennis court usage per room per day
2 hours of bike usage per room per day
Shuttle service to the hotel's Country Club facilities
Reservations
To reserve a room at the FloCon 2018 group rate, click on the following link:
Alternatively, call Hilton Reservations
Toll Free: 1-800-325-7832
Direct: 520-544-5000
Ask for the FloCon 2018 group rate
If you are having difficulty booking with the hotel, please contact Linda Canon at lcanon@sei.cmu.edu.
Terms
All reservations must be guaranteed with a major credit card.  You may cancel up to 48 hours prior to arrival to avoid cancellation fees.
Check-in time: 4:00 p.m.
Check-out time: 11:00 a.m.
Standard Rates
The special FloCon 2018 rates shown below are for standard rooms only.
Single/Double: $118.00 (or prevailing per-diem)
These rates are based on the prevailing government per-diem rate and are subject to change by the U.S. General Services Administration. No government ID is required at check-in. The group rate is offered until either the conference rooms are sold out or Tuesday, December 19, 2017, whichever occurs first.
Transportation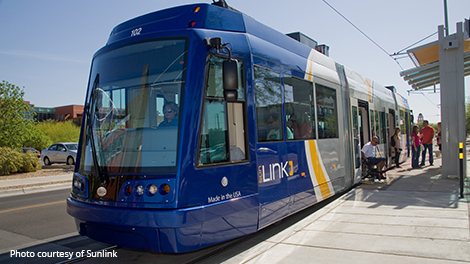 The Hilton Tucson El Conquistador resort is approximately 45 minutes from Tucson International Airport (TUC).
Shuttle, Taxi, and Ride Sharing Service
Commercial shuttle services provide transportation to/from the airport for approximately $50 round trip per person. The average taxi rate to/from airport is $60 one way. Lyft and Uber are currently the only ride services operating from Tucson International Airport; meet your driver and car at the curb outside the car rental facility.
For more information, please call the hotel at 520-544-5000.
Parking Rates
Self-parking is available at no charge. Guest valet parking is available for $11.00 per day.
Directions
From Tucson International Airport:
Follow I-10 West to Ina Road.
Exit Ina Rd, turn right and head east to Oracle Rd (about 5.3 miles).
Turn left onto Oracle Rd (north)
Continue 2.5 miles to El Conquistador Way and turn right.
The resort will be on the right.
Details about getting around:
Video courtesy of Visit Tucson
A bit off the beaten path, Tucson's unique attractions and accommodations beckon you to discover and explore a place that's authentic and comfortable.
The landscape is varied and includes: flowering desert, rolling hills, winding dry riverbeds, rugged canyons and pine-topped peaks, all beneath a clear, blue sky
The beauty of the Sonoran Desert is what first pulls many to Tucson, but they're often surprised at how verdant and diverse a living desert can be as they learn about  the unique ecosystems at Tohono Chul, Tucson Botanical Gardens, and Arizona-Sonora Desert Museum.
Explore the wide-open wonder of the American Southwest up-close and unrestrained, hiking the mountain ranges that circle the Old Pueblo or wandering wilderness preserves and parks, from the cascades of Seven Falls at Sabino Canyon to the majestic cacti of Saguaro National Parks East & West, or from the high-pine and aspen forests of Mt. Lemmon to the cool, otherworldly depths of Colossal Cave Mountain Park or Kartchner Caverns State Park.
That amazing range of natural beauty is the backdrop to a place that refuses to be defined by expectations. Probe the cosmos at Kitt Peak National Observatory and the Fred Lawrence Whipple Observatory. Feed your spirit in the city's museums and galleries, or travel through time discovering Tucson's unique cultural legacy, from the collision of Spanish and Tohono O'odham cultures in the art and architecture of Mission San Xavier del Bac to 300 vintage-to-modern aircraft illuminating a century of military and aerospace history at the Pima Air & Space Museum.
You can also hop the 3.9-mile Sun Link Tucson Streetcar and roll your way through the heart of Tucson, from Main Gate Square at the University of Arizona, along Fourth Avenue, and across Downtown Tucson to Mercado San Agustin and back. Step off and on at streetcar stops to explore shops and restaurants, ranging from funky to elegant, but always memorable.