FloCon 2021
Jan 11-14, 2021 | Sante Fe, NM
Travel & Venue
Join Us in Santa Fe!
Join professionals from all over the world to discuss the analysis of large volumes of data for protection and defense of networked systems. 
Santa Fe Community Convention Center
Santa Fe's unique convention center will host FloCon 2021.  Located in the heart of this historic city, this LEED-certified venue combines traditional Southwestern style with the latest amenities.  Enjoy its spacious meeting rooms and beautiful outdoor courtyard and terrace!  
The Santa Fe Community Convention Center is within easy walking distance of the two official FloCon 2021 hotels. It's close to the Santa Fe train station and has on-site parking in an underground garage.
Hotel Options
FloCon 2021 is delighted to offer two hotel choices for conference attendees.  Both hotels are just a few minutes' walk from the conference venue! They feature a group rate of $106 per night (or prevailing per diem rate), plus tax. This rate is based on the prevailing government per-diem rate and is subject to change by the U.S. General Services Administration. No government ID is required at check-in.
The deadline for hotel reservations at this rate is December 21, 2020.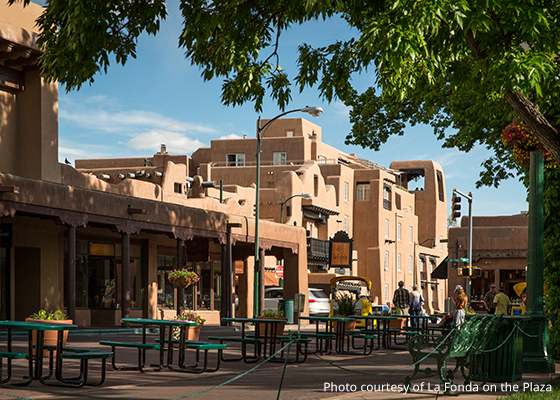 La Fonda on the Plaza
Experience the vibrant decor and authentic New Mexican style of La Fonda on the Plaza.  The hotel's central location on the historic Santa Fe Plaza is within easy reach of restaurants, galleries, entertainment, and museums!  Each beautifully appointed guest room boasts original artwork, hand-crafted furniture, and luxury amenities. 
100 E. San Francisco Street
Santa Fe, NM 87501
Toll Free: 800-523-5002
Phone: 505-982-5511
Cancellation policy: 72 hours prior to arrival to avoid a penalty fee equal to one night's room rate plus tax.
Check in time: 3:00 pm
Check out time: 12:00 pm
Note: If you are getting a sold-out response at either FloCon 2021 hotel, please contact Linda Cannon at lcanon@sei.cmu.edu.  She will work directly with the hotel to book your stay.
Transportation Options
Flights 
The city of Santa Fe is served by the Santa Fe Regional Airport and the Albuquerque International Airport.  FloCon 2021 attendees can book flights directly into Santa Fe or fly into Albuquerque and take either the train or a shuttle to downtown Santa Fe.