FloCon 2023 
Jan 9-12, 2023 | Santa Fe, NM
Thanks for Attending FloCon 2023!
FloCon focuses on applying any and all collected data to defend enterprise networks. While past conferences emphasized network flow data, FloCon now centers on improving network security by analyzing a variety of data supported by innovative machine learning, hardware, and network storage. These analyses draw upon this diverse data to track security-critical characteristics and threats, including network size, structure, and traffic -- plus a wide range of automated and human-based threats.
FloCon attendees can deeply engage with the latest tools, methods, and processes for using data to defend networked systems. Build useful skills at FloCon's pre-conference courses. Learn about the latest techniques for applying data and analytic methods at presentations. Engage in friendly competition at an online contest. Meet and network with other attendees at FloCon's online discussions and social events. Learn about the latest security technologies and products at vendor demos.
Rear Admiral William E. Chase III
Deputy Commander, Joint Force Headquarters - DoD Information Network (DODIN)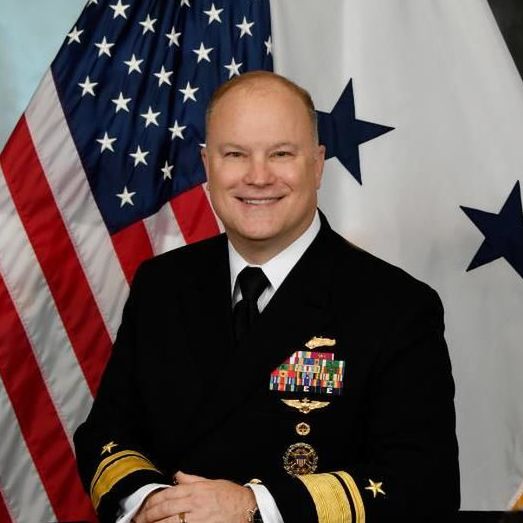 Rear Admiral William E. Chase III, is currently serving as the Deputy Commander of the Joint Force Headquarters – Department of Defense Information Network (DODIN). In this role, he leads command and control of DODIN Operations and Defensive Cyberspace Operations – Internal Defense Measures, synchronizing DODIN defense and synthesizing global intelligence sharing in order to deter adversary attacks, and enable power projection, freedom of action, and mission assurance across all warfighting domains.
Chase is a native of Washington, Missouri. He is a 1990 graduate of the U.S. Naval Academy, where he received a Bachelor of Science with honors in English. He holds a Master of Science from Carnegie Mellon University in Information Technology, and a Chief Information Officer certificate. Chase's sea tours include Helicopter Anti-submarine Squadron Light (HSL 45), where he deployed twice to the Arabian Gulf aboard the USS Ingraham (FFG 61), and HSL 49, where he served as maintenance officer and deployed as the officer in charge of the HSL Detachment aboard the USS Shiloh (CG 67) during Operations Enduring Freedom and Iraqi Freedom.
Ashore, Chase served as operations officer for Helicopter Maritime Strike Wing Pacific; deputy assistant chief of staff for Requirements, Innovation and Experimentation at Third Fleet; Deputy Director, Command Control, Communications, and Cyber at U.S. Pacific Command; Chief of Staff Naval Information Forces; Deputy Director, Joint Staff J6; Director, Protecting Critical Technologies Task Force; and Deputy Principal Cyber Advisor to the Secretary of Defense.
His command tours include Task Force 1010, Naval Network Warfare Command, and Naval Computer and Telecommunications Station Guam. He also served as Information Warfare Commander, Carrier Strike Group 3 with the John C. Stennis Strike Group
Chase was designated a Naval Aviator in 1993 and an Information Professional in 2005. His decorations include the Defense Superior Service Medal, Legion of Merit, Meritorious Service Medal, and Air Medal.
Top Three Reasons to Attend FloCon
1. Become a better analyst!
Learn about new techniques, tools, and ideas in FloCon training workshops.
2. Improve your data analysis!
Find out how other organizations explore large datasets and apply what you've learned.
3. Network!
You'll meet a wide variety of cybersecurity practitioners from industry, government, and academia during social and networking events.