Mission-Practical Biometrics
Mission-Practical Biometrics
November 2017
•

Podcast

Satya Venneti presents exploratory research undertaken by the SEI's Emerging Technology Center to design algorithms to extract heart rate from video capture of non-stationary subjects in real-time.

"
Dr. Andrew Moore, who is the Dean of the School of Computer Science at CMU, predicted that 2016 is the watershed year for machine emotional intelligence. We are really on the cutting edge of technology here, and that is what I do my research on."
Publisher:
Software Engineering Institute
Abstract
Dr. Andrew Moore, who is the Dean of the School of Computer Science at CMU, predicted that 2016 would be a watershed year for machine emotional intelligence. Evidence of this can be seen in the Department of Defense, which increasingly relies on biometric data, such as iris scans, gait recognition, and heart-rate monitoring to protect against both cyber and physical attacks. Current state-of-the-art approaches do not make it possible to gather biometric data in real-world settings, such as border and airport security checkpoints, where people are in motion. In this podcast, Satya Venneti presents exploratory research undertaken by the SEI's Emerging Technology Center to design algorithms to extract heart rate from video capture of non-stationary subjects in real-time.
About the Speaker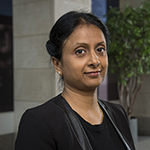 Satya Venneti is a senior member of the technical Staff at the SEI Emerging Technology Center where she leads a portfolio of projects in the field of Machine Emotional Intelligence, helping machines detect, understand, and respond to human users' emotions in real time. She holds a Master's degree in Computer Science from the University of Pittsburgh. She has 18+ years of experience in industry and holds three patents in Distributed Computing.