Distributed Artificial Intelligence in Space
Distributed Artificial Intelligence in Space
April 2017
•

Podcast

In this podcast, James Edmondson discusses his work to bring distributed artificial intelligence to a next generation, renewable power grid in space.

"We are looking at a first prototype in low Earth orbit of about six tiles collaborating, sharing information."
Publisher:
Software Engineering Institute
Abstract
In 2014-2015, a group of researchers across various disciplines gathered at the Caltech Keck Institute for Space Studies (KISS) to explore whether recent advances in multifunctional, reconfigurable, and adaptive structures could enable a microenvironment control to support space exploration in extreme environments. The workshop series spawned multiple working groups and project ideas for pushing the state-of-the-art in space exploration, colonization and infrastructure. One such project, called the Multi-planetary Smart Tile, explores the possibility of creating a multi-functional power grid for the solar system that is capable of distributed computation, renewable power generation, and power beaming to remote locations. In this podcast, Dr. James Edmondson discusses his work to bring distributed artificial intelligence to a next generation, renewable power grid in space.
About the Speaker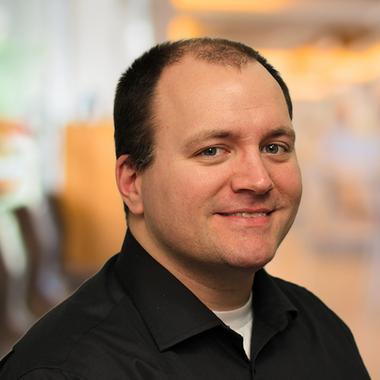 Dr. James Edmondson is a senior member of the technical staff at the Software Engineering Institute at Carnegie Mellon University. He has more than 10 years of experience in the field of middleware for scalable distributed systems and more than six years of experience in large-scale multi-agent systems. His current research interests involve scalable distributed artificial intelligence and planning amongst teams of heterogeneous agents given group-based, mission-focused objectives. He is the principal investigator for the open source knowledge and reasoning middleware MADARA (http://madara.sourceforge.net) project and the multi-agent algorithm and platform middleware GAMS (http://jredmondson.github.io/gams/). He has served on the Senior Program Committee for the 2016 and 2017 International Conference on Autonomous Agents and Multiagent Systems (AAMAS), the premier conference on multi-agent systems, and was lead guest editor for the March/April 2014 IEEE Software special issue on Next-Generation Mobile Computing. Dr. Edmondson holds a B.S. in computer science from Middle Tennessee State University and a M.S. and Ph.D. in computer science from Vanderbilt University.