Situational Awareness Mashups
Situational Awareness Mashups
November 2013
•

Podcast

In this podcast Soumya Simanta describes research aimed at creating a software prototype that allows warfighters and first responders to rapidly integrate or mash geo-tagged situational awareness data from multiple remote data sources.

"Think about a mashup as a piece of software that combines data from different sources."
Publisher:
Software Engineering Institute
Abstract
In this podcast Soumya Simanta describes research aimed at creating the Edge Mission-Oriented Tactical App Generator (eMontage), a software prototype that allows warfighters and first responders to rapidly integrate or mash geo-tagged situational awareness data from multiple remote data sources.
About the Speaker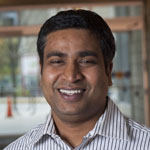 Soumya Simanta is a member of the Advanced Mobile Systems Initiative within the SEI's Software Solutions Division. His current research focuses on system-of-systems engineering, service-oriented architectures, modernization of legacy systems, grid architectures, and evaluating current technologies that support integration and interoperability between systems.