Overview of the CERT® Resilience Management Model (CERT®-RMM)
Overview of the CERT® Resilience Management Model (CERT®-RMM)
June 2014
•

Webinar

Watch James Cebula discuss the "Overview of the CERT® Resilience Management Model" from the SEI Virtual Event, CERT® Operational Resilience: Manage, Protect and Sustain
Publisher:
Software Engineering Institute
Abstract
Watch James Cebula discuss the "Overview of the CERT®Resilience Management Model" from the SEI Virtual Event, CERT® Operational Resilience: Manage, Protect and Sustain.
About the Speaker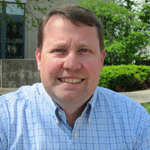 Jim Cebula is a Member of the Technical Staff on the Resilient Enterprise Management (REM) team within the CERT® Program at the Software Engineering Institute (SEI), a unit of Carnegie Mellon University in Pittsburgh, PA. Jim's current work focuses on risk management and information resilience, critical infrastructure resilience assessment, and cloud computing. Jim joined CERT in 2009 after spending nearly 15 years in project management, IT, and security roles with Bechtel Corporation, most recently as a cyber security manager. He is a Certified Information Systems Security Professional (CISSP) and is a member of IEEE, ACM, and InfraGard.